Florin Ghimisliu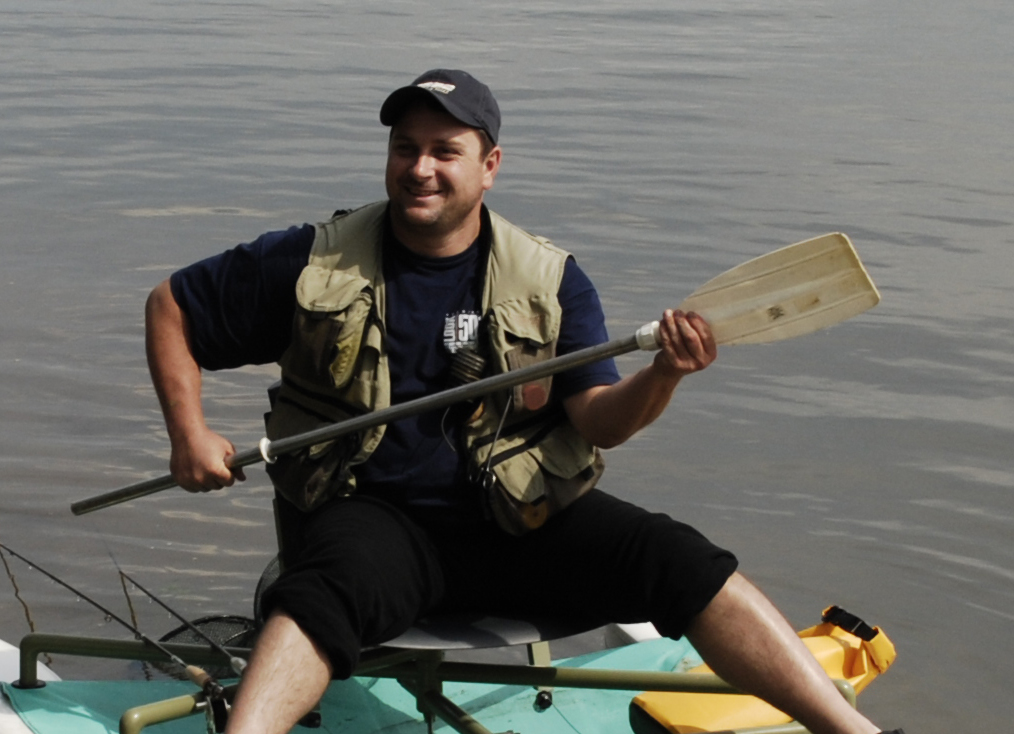 Florin Ghimisliu – Romanian National champion in 2007
Did you have the occasion to try the S1waterbike, when, where and how many times?
Florin Ghimisliu:
I am one of the lucky owners. I couldn't afford to buy it, but luckily I won it in as the grand prize in the National Finals of the 2007 Fly Fishing Championships. Not even in my dreams I could think that I can have this waterbike for my self. The first time I tried it was several years ago, it was one of the first models. I was honored that I had the occasion to try it. I pedaled to the half length of Belis lake and back without any problems. On take on and off I had a steep and rough shore, almost vertical. It was easy. One of the great things about it is that you can make a whole lake tour without any problems, backaches or sweat.
Since I won it as the main prize at 2007 National Finals, I use it exclusively. I gave up to use my inflatable boat. At 3 Lakes Cup in 2007 I used it for the first time in a fly-fishing competition. There I could check the entire shoreline without any problems given by blowing winds, things that are impossible with an inflatable boat.
What is your general impression given by S1Waterbike compared to the boats used before?
It is more than superior to any other floating device.
Easy to transport, easy to assemble, simple to drive and maintain.
Let's take it on the row, the drive distance from Pitesti to Cluj with the floats on top of my car doesn't give me any problems. The rest is in the car boot, because it is designed on modules. When I assemble it, it takes 10-15 minutes to fly-fish, you can assemble it in a few minutes. About driving there is not too much to say, it is something special, for me as a fly fisherman, it is the only boat that leaves my hands free in time of driving, that helps me a lot in time of casting. The maintenance doesn't make any problems, in the first season I didn't had to make any checkups or repairs, the only thing I had to do was to wash it, in order not to have a discordance with the look of my car.
It is a part of the Pitesti landscape now.
On what kind of waters did you try the S1waterbike?
On other places that national competitions are taking place, the Gilau and Tarnita lakes from Cluj area, where the S1waterbike is at home, I use it on Arges river dams area, upstream Pitesti. Interesting is that even the poachers didn't hear me getting close. Now I'm thinking to an additional system for a second rod, to have it near me and to use it as a spare rod.
Did you notice improvements in fishing and catches with the S1waterbike?
It is simple to drive. You pedal and move in any direction without using your hands. Having free hands, means more than comfort, it means free in actions. In move, the propeller is beneath the water surface, and between the floats, and that doesn't scare the fishes. Because you only use your legs, you are less tired, and you can focus only on fishing. You don't need to anchor, because with so little effort you can stay put even in currents or on strong winds, don't forget that you have hands free and you can fish as you want. Big catches are rare in a fisherman existence, but the number of fishes is easily increasing in the same amount of time.
How does the S1waterbike perform in competitions?
First you have a psychological advantage, you stay high on your chair, pedaling hands free. You can fish on the move and you can turn in any direction with so little effort. You can overtake other fishermen without disturbing them, because it is silent and doesn't make any waves. You can fish the whole beat and always come back on the more productive places. If the wind blows you won't have any problems, because the floats are deeply immersed into the water. You flyfish with less effort and in the end, you are not exhausted.
Would you choose the S1waterbike from other boats in the same price category?
Surely, as a fly fisherman, Yes! Because it gives you the total freedom in move mostly because of the hands free. It is a reliable boat, it gives you comfort and safety.
What do you think it should be done in order to improve the product?¨
First I think it is important to keep contact with the owners of S1waterbikes, especially the fishermen that use often the S1. They notice and can express their needs. Second is to test it with as many fishermen you can.
How do you see the future for the S1waterbike?
Variants should be developed around the actual model. I see a high specialization for different types of fishing, with customizing options, as in the car industry.